Thar Desert Jeep Dune Adventure
The anticipation as you climb into the back of the jeep and hoon out of the camp towards the dunes is almost as exciting as hitting the dunes itself. Driving away from the camp past the lines of camels and other activities along the roadside, you can feel liberated and somehow elevated from the grounding normality of home.
In the immensity of the undulating desert, there's really only two ways to get right into the dunes. One is with the rocking traipse of the all reliable and placid camel, the other is with the 'muscle of the desert,' the nimble 4-wheel-drive jeep.
Go dune bashing in Jaisalmer
If you are looking for a thrill during your trip to Thar Desert Jaisalmer, go no further than the Jeep Dune Adventure offered as one of the fun adventure activities by Queen of Thar Desert Camp. Also known – perhaps harshly – as dune bashing, the Jeep Dune Adventure takes you up and down and over the soft, shifting dunes at rapid speeds in a frolicking roller coaster ride controlled by an experienced driver.
Most people prefer to stand in the back of the jeep, gripping the roll bars as they bump, slip and slide through the sandy hills and troughs, the sun beaming on their face as the wind and sand flies through their hair. Still, for those who prefer an upfront view and more comfort inside, taking the ride in the desert jeep's cabin can still be a buzz. Indeed, who wouldn't come back without a big smile on their face?
After a boisterous drive over and around the dunes, your desert jeep driver will stop so that you can take photos. The Jeep Dune Adventure (or dune bashing) is capped off with a pleasant 'recovery' masala chai at a secluded chai wallah nestled in the dunes where you can cool down and savour the peaceful whispers of the desert, often where hard-working camels are also taking a break.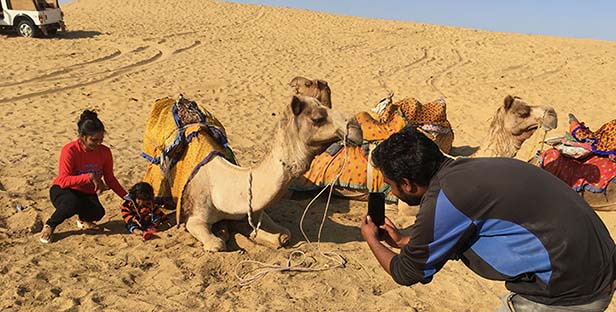 A bit more to know about…
Expect your adventure to take around one hour from pick up to drop off at the camp.
We don't recommend children under the age of 4 years of age join this adventure. It is preferred that children under 11 years of age sit in the jeep's cabin.
As this adventure involves rapid movements, we recommend that you do not eat a large, oily meal beforehand.
Your desert jeep is ready…
So, make Jeep Dune Adventure one of your Jaisalmer adventure activities. You can book now through Queen of Thar Desert Camp as a separate activity or as part of your camping experience at Sam Sand Dunes.